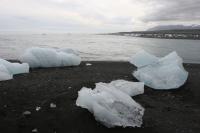 Vatnajokull Glacier is Iceland's champion in the global election to choose the Official New 7Wonders of Nature. But unlike many of the 261 natural sites that qualified for the 2nd phase of worldwide voting, Vatnajokull Glacier does not have an Official Supporting
Committee (OSC) representing it.
Without an OSC, Vatnajokull Glacier now risks disqualification. If this happens, no national nominee from Iceland will have the chance to become one of the Official New7Wonders of Nature, as chosen by people everywhere.
Vatnajokull Glacier is ranked number 7 in its category, so it is currently among the top 77 nominees. On July 7, 2009, the Top ranking nominees, based on public voting will have the chance to be one of the 21 Official Finalists in the New7Wonders of Nature campaign.
New7Wonders sent letters on Mar. 25 to Minister for Industry, Energy and Tourism Ossur Skarphedinsson and Olof Yr Atladottir, Director-General of the Icelandic Tourist Board, asking them to create or support the formation of an OSC for Vatnajokull Glacier.
As noted by Tia B. Viering, Head of Communications for New7Wonders, "It is important for the fast-paced and powerful global campaign that each nominee has an OSC to communicate and work with New7Wonders. Only thus can a country take advantage of the great opportunity offered by this worldwide platform—best results are achieved when New7Wonders can work closely with a local representative for each natural site.
We hope to soon welcome Vatnajokull Glacier as an Official Supported Nominee in this extraordinary global campaign."