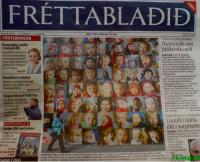 Icelandic free newspaper, Frettabladid has restructured its home delivery service all over Iceland in order to save money. The decision has come in the face of rising costs and lower advertising revenues.
From 1st April home delivery in the north of Iceland has been stopped altogether in: Hofsos and Fljotum, Siglufjordur, Olafsfjordur, Hrisey, Laugar I Reykdal, Myvatnssveit, Kopasker and Raufarhofn. However, delivery of the newspaper will continue unaffected in Saudarkrokur, Blonduos, Akureyri, Dalvik and Husavik.
According to information from 365 Media, the owners of Frettabladid, the cost cutting decision on home deliveries is not necessarily a permanent one and will be re-assessed in the near future, RUV.is reports.