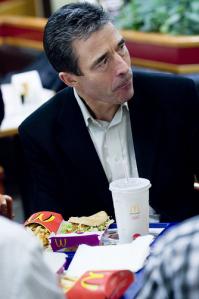 After weeks of speculation from the public and deflection from Anders Fogh Rasmussen, Denmark's Prime Minister finally announced he was in fact interested in taking over the secretary-generalship of NATO. He was subsequently approved by all of the 28 member states at their conference in Strasbourg and Kehl late last week. Rasmussen will not likely return to Danish politics, even after his time at NATO ends.
Politiken reports that of the 28 nations in NATO, only Turkey had concerns about Rasmussen's appointment to NATO's top spot. This stems from the earlier controversy surrounding cartoons considered insulting by Muslims published in Danish newspapers. Behind-the-scenes lobbying and an apology from Rasmussen eventually secured Turkey's approval.
Danish politicians are relieved that the drama surrounding their prime minister is over. Rasmussen's vagueness about his intentions has bogged down Danish government operations for months. "What a relief," says Danish People's Party Leader Pia Kjaersgaard. "We have been without leadership in this country for too long. Everything has been paralysed, so we have been waiting for clarification."
Rasmussen begins at NATO Secretary General on 1st August and will replace Jaap de Hoop Scheffer, who has been at the helm for five-and-a-half years.