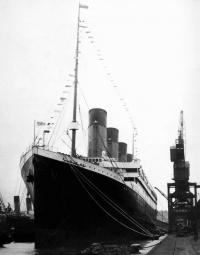 One of Finland's most flamboyant businessmen has revealed he plans to build an actual-sized copy of the legendary Titanic passenger ship on a piece of dry land in northern Finland. The giant ship will house a hotel and restaurants in a bid to lure more tourists to the northern areas of Finland.
"Everybody in Europe knows the Titanic. There are no tourist attractions in the Oulu region and I think it could attract tourists from abroad," Toivo Sukari told the AFP news service. Sukari operates a furniture store chain called Masku and recently built a massive shopping centre named Ideapark near Tampere in southern Finland.
Sukari is now working on this new venture to build another shopping centre in the small village of Kiiminki, around 630km north of Helsinki. Although he could not tell the exact dimensions of the Titanic replica, the original was 269 metres long, 28 metres wide and 53 metres high.
"It could have a hotel and a number of restaurants inside," Sukari commented to the AFP, adding that the cost would run between 30 and 40 million euros. He plans to make the new Titanic as true to the original as possible.
"I am sure Japanese tourists, who go skiing in Lapland, would be interested to see it," he said. If everything goes to plan, construction on the ship will begin later this year and be ready for customers by November 2011.