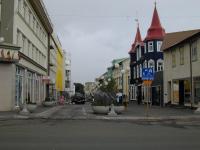 Leaders of the northern Icelandic town of Akureyri have presented a list of ideas on how to save money. One idea presented is that all municipal workers should take one day's unpaid holiday each month from next year. The money saved in wages would amount to ISK 150-200 million (USD 1.2-1.6 million) per year. The town's budgetary shortfall for 2010 is likely to be in the region of ISK 450 million.
According to Mayor Sigrun Bjork Jakobsdottir and the head of the council cabinet Hermann Jon Tomasson, no stone will be left unturned in the search for ways to save money. Much has already been done to save money, but there is still more to do, the pair warned. According to mbl.is, they take care to point out that the ideas presented this week are only ideas: nothing has been decided yet. "We want the chance to talk to people about the issue. It is essential for us to reduce costs. We are down to the bone," Jakobsdottir said. She continued, however, that Akureyri will continue to do all in its power to avoid making staff members unemployed. "We are effectively in the process of taking the first steps to national reconciliation," she said, emphasising that a frank discussion on such issues should be taking place all over the country.
There are 1,400 people employed by the Municipality of Akureyri. If all staff took one unpaid day off each month it would be possible to save ISK 250 million; but some workplaces have already indicated that such time off would not be possible – that is why the projected savings will only be ISK 150-200 million.
The ideas were presented to Akureyri's 70 council members, who will now introduce them to their staff and discuss them thoroughly before the next full council meeting on 15th April.