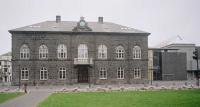 Iceland's Social Democrats remain the most popular political party, according to the latest Capacent Gallup poll conducted for RUV and Morgunbladid.
Support for the Social Democrats came out at 29.4 percent, followed by the Left Green Party on 27.2 percent and the Independence Party with 25.4 percent.
The level of support for the three main parties remains similar to the last poll, the results of which were released just over a week ago. Support for the Progressive Party has reduced to 10.7 percent, however.
Furthermore, 60.6 percent of respondents approve of the current interim minority coalition government.
The latest poll was compiled from online and telephone survey results which Capacent Gallup carried out between 25 and 31 March. Internet respondents were chosen from the database of people who have registered with Capacent Gallup, and the telephone respondents were chosen at random from the National Registry, mbl.is reports. The sample group was comprised of 2,451 people aged 18 and over. 61.1 percent decided to take part in the survey.