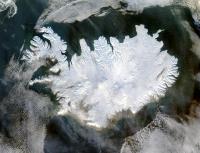 Oil slicks have been seen in satellite pictures taken over the Dragon Area, northwest of Iceland, mbl.is reports.
The discovery increases the likelihood that oil will be found in the area. Exploration licences have already been issued by the Icelandic government.
The company Fugro NPS introduced new findings at a conference in London in March. Their radar images show 186 possible sites for oil finds, with some looking very promising. Less than one percent of the reported oil slicks can be put down to human pollution. The only likely alternative is that the oil has come up naturally from the sea bed.
Members of the Icelandic Directorate of Energy were present at the London conference to introduce interested parties to the Dragon Area exploration licences on offer.