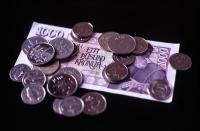 Iceland's parliament sat late into the night yesterday discussing an emergency bill on further tightening of the currency exchange market.
The bill was passed around midnight and was set into law in time for the markets to open this morning. A central provision of the new law is that export trade shall always be carried out in foreign currencies, which Icelandic companies will then have to exchange into Icelandic kronur when they bring it into the country.
There were already barriers in place to prevent the removal of foreign currency from Iceland following the currency collapse last autumn; but a two-tier system had developed whereby some exporters had managed to exploit a loophole in the law, Forbes reported.
By accepting ISK for their goods on foreign markets, exporters have been able to bypass the law and get proportionately more money at the end. They will now have to bring their foreign currency home and exchange it.
The law was passed following a significant slide in the value of the krona over recent weeks and made it through parliament with the support of every party except the Independence Party. Independence Party MPs abstained.
It will remain in force until the end of November 2010.