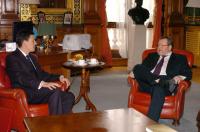 Ossur Skarphedinsson, Iceland's Foreign Minister had a meeting today in London with David Miliband, Britain's Foreign Secretary.
According to the Ministry for Foreign Affairs, the ministers agreed on the need to conclude discussions over the issue of Icesave refunds in a way that satisfies all stakeholders in both nations as quickly as possible.
A meeting of the negotiating panels of the two countries followed the ministers' meeting, mbl.is reports.
A statement from the Icelandic Ministry for Foreign Affairs says that the ministers had a clear and constructive discussion on unresolved tasks and the two countries' bilateral relations. Among other things, they are both reported to have stressed the importance of good relations and expressed a mutual desire to increase co-operation on defence and security, as well as renewable energy.
(Photo: mbl.is)