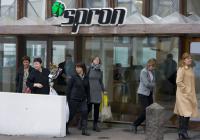 The SPRON resolution committee has reached an agreement on the sale of SPRON's branch network. Hlynur Jonsson, the head of the resolution committee, confirmed this to visir.is a short while ago – although he would not say who the purchaser was, saying that the sale would be publicly presented later today.
The state broadcaster RUV is reporting that the buyer is MP Investment Bank. Mbl.is is also reporting this as fact.
"I can confirm that we have come to an agreement with a certain party," Jonsson told visir.is. "We are largely pleased with the situation and believe it will bring value to the company. The situation is also positive for staff members."
Jonsson said that details will be released later today on the purchase price, but said that it was "very satisfactory" from his point-of-view.
MP Bank's website describes the company: "The company was founded as MP Securities in 1999 and became an investment bank in 2003, offering a full range of investment banking services. The Bank was granted a full commercial banking licence in 2008 and has started accepting deposits and pension savings, in addition to its pre-existing services in Iceland. MP Bank will be celebrating ten years of operations in 2009.
"The Bank's headquarters are in Reykjavík, Iceland and a branch office is operated in Vilnius, Lithuania."
(Photo: mbl.is)