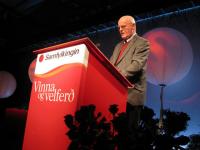 The national conferences of both the Independence and the Social Democratic parties are taking place this weekend and come at a critical time, less than a month before the general election.
The popular television journalist turned political activist Omar Ragnarsson formally announced Friday evening that his Iceland Movement political party has become part of the Social Democrats.
The Iceland Movement contested the 2007 election on an anti-heavy industry platform following widespread public anger at the construction of a new aluminium smelter in East Iceland, but failed to receive the five percent support necessary for entry into parliament.
Ragnarsson said in his speech that equal rights and socialism will be the main priority of his members within the Social Democrats. "Equal rights must also prevail between generations. Our freedom cannot deprive the next generations of their freedom," he said.
The party has also reconfirmed its desire to continue governing after the election with "our friends" the Left Green Party, mbl.is reports.
At the Independence Party conference, the party chairman (until today) and former Prime Minister Geir Haarde gave a speech apologising for his part in the "serious mistakes" made in privatising the banks six years ago.
According to Haarde, if the Independence Party government of the time had not rescinded on its dispersed ownership plan for the banks, no parties would have been able to accumulate the power that eventually brought the system to its knees.
In the same speech, Haarde said he still hopes Iceland will hold a referendum on whether to start negotiating for European Union membership; and a second referendum to decide if the country should then make a formal application.
Despite "some temporary resistance", Haarde said the Independence Party is currently in good shape. In fact both party conferences are well-attended and being followed closely in the media.
Both parties are also holding leadership ballots at their conferences, with both Geir H. Haarde and Ingibjorg Solrun Gisladottir stepping down for health reasons. IceNews will, of course, bring you all the names and conference news that matters.