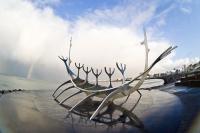 The Intercultural Centre and Landsbanki have teamed up to offer financial advice to people of foreign origin in Iceland. The goal is to offer sound and accessible financial advice to Intercultural Centre visitors who are experiencing financial difficulties.
The project is an extension of Landsbanki's existing support for the Intercultural Centre, and Landsbanki will also support the Centre in its campaign aimed at reducing prejudice among young people.
The goal of that project is to reach primary school aged children, teenagers and adults with educational material about prejudice, tolerance and multi-culturalism. Intercultural Centre staff will visit children in the upper years of elementary school and explore issues surrounding racism with them, RUV.is reports.