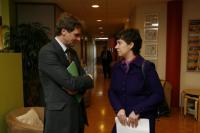 Many foreign investors are showing great interest in Iceland, but are doing nothing about it. Instead they sit on their hands and worry that the rules of the game will be changed mid negotiation. According to visir.is there is little trust in the unstable working environment in Iceland.
The Federation of Icelandic Industries (SI) has had enquiries from various foreign investors showing interest in Icelandic companies, banks and the reconstruction of the national economy. Vilhjalmur Egilsson, the head of SI told visir.is that large foreign investors worry about the instability of the Icelandic economy at the moment.
"Sometimes it's going in one direction and then the brakes are slammed on – and in some cases they have already invested large sums in processes which are stopped in the end."
Egilsson names Rio Tinto Alcan as an example. When the company applied to extend its smelter in Straumsvik near Hafnarfjordur, they invested ISK 3 billion in the process which was later lost when Hafnarfjordur residents voted against the extension in a local referendum.
He says this puts investors off and those he has spoken to want to see greater stability and clarity so that they can get clear answers in good time.
Furthermore, Egilsson says that Iceland is going to need these big foreign investors if it wants to successfully build up its economy: "I think we need to generally be an open and professional working environment, stand by what we say and not change the rules in the middle of the game. By doing that we can get better results in this area."