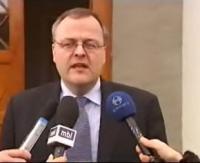 Gylfi Magnusson, Iceland's Minister of Commerce is not excited by the possibility of merging the banking sector so that one super-bank could have over 50 percent market share. From a competition point-of-view, that would not be a good long term situation, he argues.
The possible merging of the Icelandic banks has been under discussion since the banking crisis hit last October and the weekend's state takeover of SPRON and Sparisjodabanki has done nothing to stop the speculation, RUV.is reports.
Gylfi Magnusson said, however, that no formal discussions are taking place on the issue; but people are certainly throwing the issue around and brainstorming ideas, whatever the outcome may be.
The Minister of Commerce also told RUV that preparations for negotiations regarding Icesave repayments are going well and that they are expected to start soon. The state intervention in SPRON and Sparisjodabanki has marked a turning point in the story and from now on the sole goal will be economic reconstruction, he said.