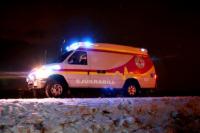 Iceland's Independence Party has repaid a ISK 300,000 donation made by Neydarlinan, the country's emergency services hotline (accessed by dialling 112).
The Independence Party admitted it should not have accepted the 2007 donation as it runs counter to a 2006 law on which organisations can and cannot contribute to political parties.
ISK 300,000 (USD 2,600 at today's rate) is not a lot of money. That the Independence Party would accept the sum may shock some people; but political parties the world over are famous for accepting funding almost wherever it is offered.
The biggest question is what possible justification could there be for the national emergency telephone hotline (which is, of course, publicly funded) to make any contributions to any political party. And why take the risk for such a relatively small amount of money?
UPDATE: It has just emerged that the Social Democrats will also be repaying a ISK 150,000 donation they received in 2007 from the Icelandic postal service, Posturinn. Although the 2006 law states that the post office cannot support Icelandic political parties, it is worth noting that the postal service is run as a private enterprise.