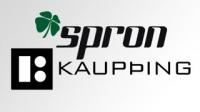 According to RUV.is sources, the transfer of all customer funds from SPRON to New Kaupthing has now been completed. All assets are fully insured according to law.
SPRON debit and credit cards will continue to work and SPRON customers will have continued access to their online banking services for the next few days until their access to Kaupthing internet banking has been set up.
New Kaupthing is inviting SPRON customers with any questions to visit their nearest Kaupthing branch or call 444 7000. All SPRON branches are closed, except for the one on Borgartun.
Meanwhile, RUV.is also reports that Baugur Group's declaration of bankruptcy was the final nail in SPRON's coffin and Sparisjodabanki's loans to the 'old' banks were the beginning of the end for that bank.
According to SPRON's interim report from last autumn, interest and service charges came to 1,400 million ISK (USD 12 million) in the first three quarters of 2008. Operational costs were, however, 200 million ISK (USD 1.8 million) more. The bank's capital position was around 13 billion ISK (USD 115 million) – but that included a six billion ISK (USD 53 million) loan from Kaupthing. As a result, six billion of SPRON's assets disappeared with the fall of Kaupthing in October. That left seven billion. SPRON lent a lot of money to Baugur, meaning that Baugur's recent collapse left SPRON with very little money left over, RUV.is reports.
The Financial Supervisory Authority (FME) took over the operations of SPRON and Sparisjodabanki on Saturday because neither bank had enjoyed the legal minimum capital adequacy ratio since October.
The Minister of Finance said that the state could lose as much as 180 billion ISK (USD 1.6 billion) in the process.