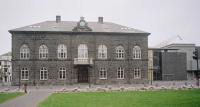 The two parties in Iceland's interim coalition government would secure 38 of parliament's 63 seats if elections were held today, according to a new Capacent-Gallup poll.
The Social Democrat and Left Green government enjoys the support of 64.3 percent of the survey's respondents, with 35.7 percent opposing it. RUV.is reports that the Social Democrats are now ahead in the polls again after two weeks trailing the Independence Party.
The Social Democrats have gained two points since the last poll, with 31.2 percent of respondents intending to vote red. The Independence Party dropped by a similar amount down to 26.5 percent. The Left Green movement enjoys 24.6 percent support and the Progressive Party 11.3 percent.
The Liberal Party got the least support of all, with only 1.3 percent. That is less than the two unofficial parties, The City Movement (2.5 percent) and Sovereignty Interest (1.9 percent).
The poll included around 1,555 people, 62 percent of whom decided to take part. The survey was conducted from 11-17 March, several days after Ingibjorg Solrun Gisladottir announced her withdrawal from the Social Democrats, and from parliamentary politics in general.