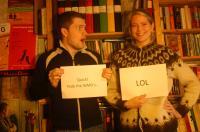 When United Kingdom authorities used anti-terrorism laws against Iceland last October, a group called In Defence was formed. The group's website received a great deal of international attention for its quirky and imaginative use of photographs to highlight the idea that calling Icelanders terrorists could hardly be a less accurate description.
The next stage in the campaign is to present a petition consisting of four 500-page volumes with over 83,300 signatures to the British-Icelandic All-Party Parliamentary Group at the Houses of Parliament tomorrow.
The event will include Orri Pall Dyrason from Sigur Ros, who will play a small drum, an Icelandic woman wearing a "skautbuningur," the traditional and symbolic Icelandic costume, and organisers of the "Icelanders are NOT Terrorists" campaign. Also present outside the Palace of Westminster will be students and members of the Icelandic Society of London showing their support with signs.
The petition will be handed over in the Jubilee Room at the Palace of Westminster between 14.30 and 15.00 tomorrow and media interviews will be conducted afterwards in the Westminster Hall.
"www.indefence.is was launched on 22nd October by a group of Icelanders with close ties to the United Kingdom who wished to protest against the use of the Anti-terrorism Act by the British government against a struggling ally. The group seeks an end to diplomatic hostilities between the two governments and to engender greater understanding and comradeship between the people of Iceland the United Kingdom.
"The interactive Web site, which can be read in nine languages, depicts Icelanders holding signs that announce that they are not terrorists. The campaign has attracted broad-based support among Icelanders, and the number of their signatures represents one-quarter of the population of the country. Hundreds of these supporters, including members of Sigur Ros, have posed for their own picture postcards with messages directed to the British government. Citizen from all over the world have also signed the petition and offered words of support that can be read online," the group's press release says.