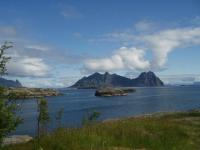 Norwegian authorities have ordered a Russian cargo ship to dock at Bodoe Harbour and placed it under arrest in connection with a collision with a smaller fishing vessel that happened near the Lofoten Islands. One of the crewmembers of the fishing boat is missing and presumed dead.
The Russian ship Mekhanik Tyulenev was recorded by Norwegian coastal defence radar extremely close to the sunken fishing ship around the time of the incident. The wreck of the Norwegian fishing boat was found at a depth of 80 metres by a mini sub, according to NRK.
Bodoe police are still unwilling to say if there actually was a collision between the two ships, as the Russian captain and the owner of the ship have denied any accident. However, marks have been found on the Russian ship's hull and are now being tested by forensics experts to see if they are recent.
The Norway Post reports that the mini sub will go back to the scene of the sunken fishing boat to try and determine more about the exact cause of the sinking. Rough seas delayed the effort, however.