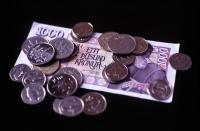 The Government of Iceland has appointed Norwegian-French Magistrate Eva Joly as a special adviser on the investigation of cases linked to the country's economic collapse.
Norwegian born Joly specialised in financial affairs during her studies in France. In 1990 she joined the High Court of Paris as an investigating judge. She quickly made a mark with her tireless crusade against corruption, taking on, among others, former minister Bernard Tapie and the bank Crédit Lyonnais. Her most famous case was that of France's leading oil company – Elf Aquitaine. In the face of death threats, she carried on the case to uncover several cases of fraud. She was named European of the Year by Reader's Digest in 2002.
Mrs. Joly now works as a special advisor to the Norwegian government on money laundering and campaigns for tougher international action against fraud.