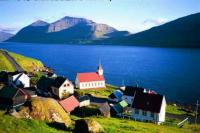 The Insurance Company of the Faroe Islands (TF) aims to be operational in Iceland before the end of 2009. Edvard Heen, the company CEO, announced his intention at a press conference in Reykjavik on Tuesday. He went so far as to say that those in charge of the company had been investigating a move into the Icelandic market since 2007. Real movement came in August 2008 and a formal decision was made at the board meeting two weeks ago.
TF's preferred option is to purchase an insurance company already active in Iceland, mbl.is reports. The four options the company is willing to consider are to begin direct insurance sales to Iceland from their home base, open up a TF branch in Iceland, establish a new Icelandic insurance company owned by TF, or to buy an existing Icelandic insurance company.
According to Heen, over recent months the company has spoken to representatives of Icelandic insurance companies, banks and government and introduced their ideas and proposed financing options to them.
TF has seven decades experience in insurance provision, with roots back to the 19th century. The company has a 75-80 percent market share in the Faroe Islands and is very financially stable, mbl.is reports.