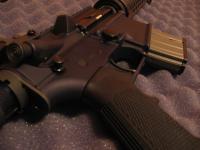 A simmering conflict between rival gangs in the Danish capital of Copenhagen has slowly boiled over into a street war. In three different incidents within as many days, two men were shot and killed and a third shot and critically injured in the Amager and Norrebro districts.
These latest shootings are just part of a spate of ongoing gunfights on the streets of Copenhagen between bikers and immigrant gangs. The Hell's Angels biker gang has been fighting over turf for months with newly formed immigrant gangs. They are primarily reported to be fighting over drugs, prostitution and weapons sales.
Politiken reports that the Copenhagen police department has set up a 35-man task force specially designed to prevent these public street shootings. But the added patrols are not solving the problem, and the capital's police department is considering bringing in help from other districts.
"One of the first things we will be doing on Monday is to find out whether we should be doing things differently," commented Copenhagen Police Chief Superintendant Per Larsen at the weekend. "If you really want to do something as crazy as what's going on at the moment, it's like finding a needle in a haystack. However many officers we put on the job, we cannot guarantee it won't happen again," Larsen admits.
Another pressing issue is that emergency personnel are afraid to enter the danger zones even when a call for medical help has been issued. Residents of both Norrebro and Mjolnerparken Estate report that ambulances won't arrive until police secure the area first.