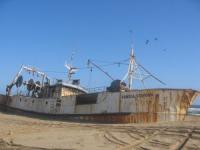 Norway is the latest nation to join the European Union's anti-piracy operation known as Atalanta off the coast of Somalia. Although Norway is not a member of the EU, the Nordic nation will be sending a Nansen Class frigate ship to the Gulf of Aden this summer to help battle the piracy plague that has been hampering shipping in the region.
The Norwegian government released a statement saying that their participation in the naval operation is aimed at providing direct logistical support to the UN effort as well as strengthening Norway's existing humanitarian and political actions in Somalia.
Around 1,000 Norwegian ships pass through the pirate-infested Gulf of Aden each year. Although several of them have been attacked by Somali pirates, no Norwegian ship has yet been hijacked. Being a major seafaring nation itself, Norway is an obvious choice to help with this issue. Its efforts will not only protect its own ships but also lend a much-needed hand to combat the increasingly bold actions of Somali pirates.
The anti-piracy naval operation led by the EU known as Atalanta began last December. To date, it consists of Maritime Patrol Aircraft and naval ships from France, Germany, Greece, Italy, Spain, the UK and soon Norway.