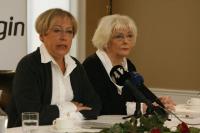 Ingibjorg Solrun Gisladottir, former Icelandic Foreign Minister and current MP and chairman of the Social Democrats, announced this afternoon that she is to leave politics altogether. Gisladottir invited the media to a press conference at her home on Nesvegur shortly before 17.00 to announce her decision.
Just a week ago Gisladottir announced her candidacy for the upcoming elections on 25th April, where she also announced that she would like to remain party chairman, but was not interested in becoming Prime Minister. This afternoon she said she cannot trust her own health enough to commit to another four years in parliament, mbl.is reports.
Gisladottir made clear at the press conference that her decision applies both to her seat in parliament and to her role within the Social Democratic party and will take effect at the beginning of the party conference to be held 27-29th March. "With this decision, I am looking reality in the eye: the reality that my illness will prevent me from taking part with full power in the work that needs to be done [after the elections]," she said.
She said that her recovery from her brain tumour has not been as quick as she had hoped.
Johanna Sigurdardottir, the current Prime Minister, and Ossur Skarphedinsson, current Foreign Minister and Dagur B. Eggertsson, former mayor of Reykjavik, all confirmed at the press conference that they will not seek election as party chairman at the party conference. They will, however, be standing for parliament.
Ingibjorg Solrun Gisladottir was first elected to parliament for the Women's Alliance from 1991-1994. She has been chairman of the Social Democrats (of which the Women's Alliance became a part) since 2005.