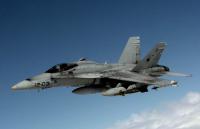 The Spanish military has announced that it will not be patrolling Icelandic airspace this summer as had been previously agreed.
According to information from the Icelandic Foreign Ministry, the reason for the change of plan is that the Spanish government does not want to shoulder the costs involved in the operation during a time of financial crisis.
Ministry spokesman Urdur Gunnarsdottir said the issue is not in the hands of NATO, which is working to find another member state to patrol Icelandic airspace over the summer. An announcement on which nation that will be is expected around the middle of the month, according to mbl.is.