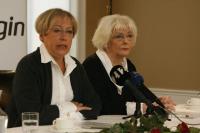 Head of Iceland's Social Democrats and former Foreign Minister Ingibjorg Solrun Gisladottir has confirmed that she intends to run for parliament again at the upcoming elections in April.
She expressed her desire to remain an MP and the head of the party, but does not want to be Prime Minister should the Social Democrats be part of the next government. In a joint press conference with current Prime Minister Johanna Sigurdardottir (also of the Social Democrats), Gisladottir described Sigrdardottir as "[ideal] Prime Minister material".
For her part, the current PM said she would not welcome the additional pressure of being party chairman, Morgunbladid reports. She pointed to Gisladottir's long service to the party and her fruitful long term relationships with all key figures as reasons for her to remain in her post.
There have been doubts over Gisladottir's candidacy for the elections due to her recent ill health. After collapsing at a UN meeting in New York, a benign tumour was removed from her brain. Her candidacy could be seen as a vote of confidence in her own good health over the next four years, which she has been unwilling to confirm until now.
(Photo: mbl.is/Ómar)