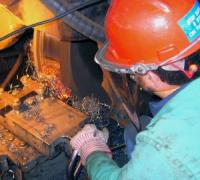 Statistics Iceland reports that the monthly wage index in January 2009 increased by 0.6 percent to 355.7 points. That figure is around 7.5 percent over the previous 12 months.
The January increase means that 'real wages' stayed the same in that month, but have fallen 9.4 percent in the last year as a whole. Real wages are an assessment of spending power where the effect of inflation is subtracted from the numerical significance of wage increases.
"According to an agreement between the Association of Local Authorities and the Association of Teachers in Primary and Lower Secondary Schools, wages increased by 2.5 percent from 1 January 2009.
"The wage index in January also reflects the effects of a collective agreement made between signatories at the local government level in December 2008 and an agreement between the Confederation of Icelandic Employers and the Confederation of Icelandic Bank and Finance Employees which was signed 5 December 2008," the report says.