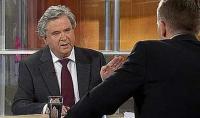 Central Bank of Iceland (CBI) chairman, David Oddsson made a rare public appearance on the Kastljos current affairs programme on RUV television this evening.
Despite speculation that he intended to resign on the show or to break a huge piece of bad news, he actually used the long interview to defend himself, his work and the institution for which he works.
During the interview, a talkative and, at times, fiery Oddsson criticised Prime Minister Johanna Sigurdardottir for her continued keenness for him to leave his job. He argued that the central bank had been warning the government and the commercial banks of their need to downsize at least since spring 2007.
He also said that the central bank has done an admirable job since the banking collapse last October. The central bank has been instrumental in achieving the seemingly impossible tasks of getting the financial system running again and floating the krona currency.
On the issue of his personal unpopularity, Oddsson said that polls showing over 90 percent of the public wanting him to resign were pushed by the "Baugur Press" to make him look bad. Oddsson has a famously bad relationship with the owners of Baugur and several other large companies, and has frequently complained about their media outlets' bias against him.
His claim to have sent a letter to the police's Financial Crimes Department in December asking them to investigate Mohamed Bin Khalifa's purchase of a 5 percent stake in Kaupthing has been confirmed by police sources.
Not only has the Central Bank of Iceland been proactive enough in its job, it has "done as much or even more than most central banks," Oddsson said.
He also said during the 40 minute long interview, that the hundreds of 'special' loan arrangements private companies reached with the old banks was unacceptable, and the fact that the idea of an official investigation is still being "set to one side" is scandalous.