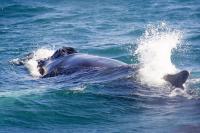 The general manager of Elding, the company offering whale watching trips from Reykjavik Harbour, says she is very disappointed with fishing minister Steingrimur J. Sigfusson's decision to allow whaling this summer.
"We are going to feel this," Rannveig Gretarsdottir told mbl.is when she heard Sigfusson's decision.
"The international community will surely show us very hard feedback," Gretarsdottir said. She added that she has pre-booked some tours already for this summer, but: "Some travel companies have said they will cancel if the hunting goes ahead".