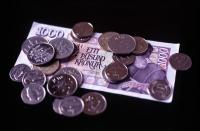 Gylfi Magnusson, Icelandic Minister of Commerce believes the time may have come to negotiate with foreigners clamouring to cash in their Icelandic krona Glacier Bonds for foreign currency, and instead offer sections of the foreign assets of Icelandic banks and pension funds.
It is not currently possible to exchange Icelandic kronur in very large amounts, because there is the distinct possibility that a total relaxation of the rules would mean an instant transferral of billions of kronur away from Iceland because of Glacier Bonds government bonds and the assets of foreigners in Icelandic banks, including the Central Bank of Iceland.
Gylfi Magnusson says it is important to either keep the money invested in Iceland or to find a way to allow it to leave the country without having a serious effect on the foreign exchange market. No direct dialogue has yet taken place with the bondholders but there have been advances in the fields of turning the bonds into long term loans or swapping them for Icelandic bank assets abroad.
The matter is under the jurisdiction of the Central Bank, so the decision must come from there, mbl.is reports. But Magnusson says there is no obstacle in the way of trying to set up a dialogue.