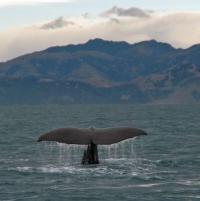 Iceland's minister for finance, farming and fisheries, the Green Party leader Steingrimur J. Sigfusson, today announced that his predecessor's controversial increase in the whaling quota will stand – at least for this year.
Former fisheries minister Einar K. Gudfinsson made it his parting act to announce a quota of 100 minke whales and 150 fin whales per year for the next five years. Many observers believed the decision was made partly to cause the strongly anti-whaling Sigfusson a headache in his new job.
Sigfusson did not rescind the decision immediately, instead taking a few weeks to discuss the issue with all sides.
The minister remains anti-whaling on a personal level, and warned whalers that they cannot take for granted that Gudfinsson's quota will stand for the next four years.
Environmentalists, tourist chiefs and the wider international community reacted with dismay to this largely unexpected outcome.