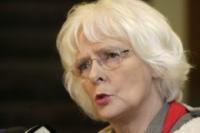 Around six in every ten Icelanders trust Johanna Sigurdardottir, their new Prime Minister, very much, according to a recent poll conducted by the Market and Media Research Group and reported on RUV.is.
Nearly half of those asked are very trusting of Gylfi Magnusson, the new Minister of Trade, who is not an MP. And roughly 40 percent of respondents greatly trust Katrin Jakobsdottir, Minister of Culture and Education and Ragna Arnadottir, Minister for Justice and Ecclesiastical Affairs.
In the conclusion of the report it says that both Johanna Sigurdardottir and Steingrimur J. Sigfusson, the leaders of the two coalition parties, enjoy considerable support from voters of the other party. On the other hand, leaders of the old coalition government, Geir H. Haarde and Ingibjorg Solrun Gisladottir enjoy little support from anyone outside of their own parties.
Poll participants came from a so-called quota sample, meaning the survey was completed by people who have agreed to participate in regular online polls.
In total, 971 people took part.