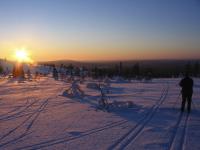 The wild empty expanses of Lapland are no longer free range for Finland's snowmobile riders. SIKUnews reports that local police have had enough of snowmobile speedsters zipping through Lapland's ski resort towns and will start treating the recreational machines the same as cars.
A police traffic radar caught one snowmobiler in the Levi ski resort in Kittila going 138 kilometres per hour, an unofficial record for this season so far. Lapland Provincial Police Commissioner Pentti Saira told the Helsing Sanomat newspaper, "This was on a snowmobile track with a speed limit of 60 km/h. On ice, the speed limit is 80 km/h. Many seem to forget that the same rules apply to snowmobiles as to cars. A hefty fine can be imposed on a snowmobile, too."
During this year's ski season, Lapland police will be closely watching the actions of snowmobilers. They will carry out breathalyser tests and fine anyone caught breaking the rules imposed on regular vehicle operators. Between 2004 and 2007, 73 percent of the snowmobile fatalities were driving drunk. Last year, 14 snowmobilers lost their lives in accidents.
Lapland boasts 3,300 kilometres of official snowmobile trails, as well as another 5,000 kilometres of unofficial marked paths. More than half of 2008's casualties died while driving on a frozen body of water, although more than 700 injuries are reported each year due to loss of control.