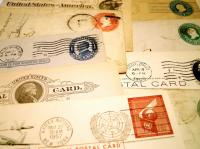 In one of the more unusual mergers of the year, the national postal services of Sweden and Denmark have signed an agreement to combine their two agencies into one. Unless European competition authorities deem the merger to be bad for business, both Denmark and Sweden will soon have their mail handled by a single company.
An official agreement signed between Danish postal service Post Danmark and Swedish postal service Posten Sverige has been approved by the relevant national ministries. The new post company has yet to be named, but Sweden will own 60 percent and Denmark 40 percent. The new company's board, however, will be equally divided between the two countries.
The JP news agency reports that Danish Transport Minister Lars Barfoed is very pleased with the arrangement, which has been under development for months. "I'm convinced that the two companies will be strengthened by this merger and the citizens of Denmark and Sweden will also have access to a high quality postal service with competitive prices," he told JP.
In order to get all of Post Danmark back into the hands of Danish authorities, the postal company sold its holdings in Belgium's postal company De Poste to the private equity firm CVC Capital Partners, who held a 22 percent stake in Post Danmark.