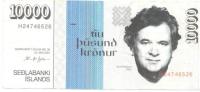 A group of protesters this morning gathered outside the Central Bank of Iceland in order to block the bank chiefs' access to the building as they arrived for work. Two of the bank's three chairmen, David Oddsson and Eirikur Gudnason have refused to yield to the new Prime Minister's demand that they resign. The remaining chairman, Ingimundur Fridriksson, does intend to resign.
At Saturday afternoon's protest meeting in front of parliament, the singer/songwriter turned firebrand rabble-rouser Hordur Torfason encouraged attendees to meet again at the Central Bank this morning at 08.00.
Prime Minister Johanna Sigurdardottir last night expressed her disappointment with David Oddsson for his refusal to resign and for his harshly worded reply to her initial letter.