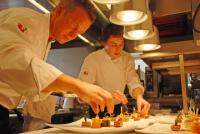 Jonas Lundgren, a 30 year-old chef who runs a restaurant in Oslo, just boosted his reputation as a culinary whiz by taking second place in the 2009 Bocuse d'Or cooking competition. Regarded by many foodies as the Olympics of cooking, the Bocuse d'Or is a biannual event held in Lyon, France.
The Local newspaper reports that Lundgren is pleased not only with his own success, but also with the publicity that will fall on Sweden's budding culinary scene. "This really boosts my idea that Sweden should become Europe's culinary capital. It will create jobs and provide new opportunities in every part of Sweden," he said.
The 24 chefs competing from around the world were given five hours to craft Scottish Aberdeen Angus Beef, fresh cod, scallops and wild shrimp from Norway into something magical. Lundgren's winning dish consisted of poached cod stuffed with shrimp marinated in dill and lemon.
Scandinavia as a whole performed well at the competition, with Norway's own Geir Skeie taking home top honours for the second time in his career. France's Philippe Mille grabbed third place. Sweden's Minister of Agriculture, Eskil Erlandsson, was impressed with his compatriot's style and skills, and was hopeful that Lundgren's success would boost his home country's emerging haute cuisine scene.