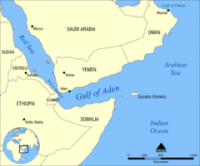 Sweden is set to send three of its naval vessels to the Gulf of Aden to help in the international effort to fight the scourge of piracy that has engulfed the seas off of Somalia. The government voted overwhelmingly to support the ongoing UN mission, code-named Operation Atalanta.
Sweden will be sending two corvettes and one support ship along with a security force, the government said in a statement. The Chinese news agency Xinhua reports that Sweden's participation in the UN mission will start before the middle of 2009, and last four months at the longest.
Swedish foreign minister Carl Bildt said in the statement that "Sweden's participation is a response to the UN request for protection and security for the deliveries of food aid to Somalia from the United Nations World Food Programme (WFP). In addition, the operation will help combat the increasing number of acts of piracy off the coast of the country."
The EU officially started its anti-piracy mission in the Gulf of Aden on 8 December 2008. This marked the first time the 27-nation union embarked on a joint naval mission. Currently, more than 90 per cent of all WFP aid to Somalia is delivered by sea. Continued interruption by the pirates could spell disaster for the people of this nation, which is now considered the world's most lawless.