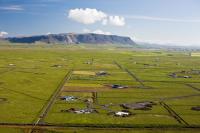 Investing in land property in Iceland is still very affordable. Southern Icelandic residential land is still being sold, being an ideal place for families, individuals and business investors, to construct houses, or build small farms for keeping Icelandic horses, small scale land cultivation or other related activities.
Considered a suburb community and located only 4km from the centre of Selfoss (55km from Reykjavik), Tjarnabyggd offers the opportunity to invest in solid, fertile land in a peaceful area surrounded by magnificent nature and close to a large bird conservation reserve.
Selfoss is the major town in the area and offers a wide range of services, such as shops, post office, bars, tradesmen and companies providing technical services.
The land in Tjarnabyggd covers 600 hectares which are divided into 61 clusters. Each cluster is made up of six plots of about 10.000 m2. The plots can be bought individually as well as more clusters together, depending on the size of land investors wish to acquire. Every cluster is separated by walkways and 5m wide horseback riding tracks.
There is no heavy industry on the south coast of Iceland, the tap water is of excellent quality and the land is provided with communal geothermal heated water – for home heating and baths, but also great for any hot tubs or greenhouses.
For more information about this investment opportunity in Iceland visit the company's website www.tjarnabyggd.is.