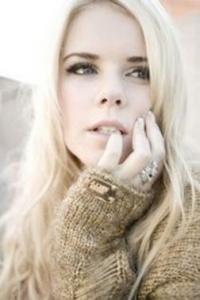 Butterflies and Elvis is the first international release from Yohanna, the 18 year-old singing sensation from Iceland. The catchy, some might say 'vibey', album could be described as a mix of inspirational pop and arrestingly soulful vocals.
Yohanna's newest CD, her first international release, showcases the young star's soulful voice. She wrote many of the songs along with British songwriter Lee Horrocks. The album has been three years in the making and was recorded in L.A.
Already a multi-platinum star in her own country, she was signed by Sony's Tommy Mattola at 13 and has since been working with some of the industry's biggest names. Lee Horrocks, who shares the album's song writing credits with the singer, calls her voice remarkable. "It's something I've never seen before," he says. "It's very pure, very original." Veteran recording engineer Thomas Yezzi has his own explanation. "She's an 18 year-old, white Icelandic girl with the soul of a 50 year-old black woman. She's really amazing."
In addition to the new album, Yohanna has also been playing a few intimate, carefully chosen dates in Reykjavik. She was recently accompanied by the Icelandic Symphony Orchestra in a sold-out concert which was also broadcast live on Icelandic TV.