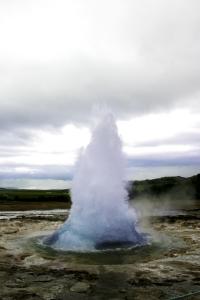 Visit Reykjavik reports a marked increase in the number of tourists visiting the city since the financial crisis hit last October. Visits to the Reykjavik Tourist Information Centre have soared at this normally slow time of year in tourism, and shopping and more expensive tours have become more popular due to the favourable exchange rate.
A statement from the city's tourism officials reads:
Tourist Numbers Growing
The growth in the number of tourists visiting Iceland seems to be slowing down as a result of the worldwide economic recession. Arrivals grew by only 3% compared to the 8% yearly growth in the last 10 years or so. 2008 was still a record year for tourism in Iceland and despite the slowdown in growth; more and more tourists are attracted to the services of Reykjavik's Official Tourist Information Centre.
The Centre received 30% more guests during September, October and November 2008, compared to the same period in 2007. But December was the big record-breaker, with a 43% increase on December 2007.
One of the reasons for this vast increase may be the continuing international trend for tourists to travel independently and book later than before, making the need for efficient information-seeking and booking on arrival more important.
Exchange Rate Makes Pricier Tours More Popular
Tourist information staff are busy booking tours and activities for Reykjavik's visitors. The most popular activities continue to be visiting sights such as the Blue Lagoon, Gullfoss and Geysir. Tours to view the Northern Lights are also popular, as are museums, music events, restaurants, thermal pools and spas. Staff claim that more expensive tours such as Jeep tours are exceptionally popular due to the favourable exchange rate, making such activities more affordable.
An Attractive Shopping Destination
Tax refunds to tourists have also grown massively in the past few months, but tourists can claim a 15% VAT refund on purchases over ISK 4,000. Iceland Refund saw a 194% increase in sales in October and November 2008 compared to the same period in 2007, and an incredible 400% increase in tax refund sales in December. One can safely assume that a considerable number of Christmas gift receivers around the world got an Icelandic surprise in their parcel last Christmas!