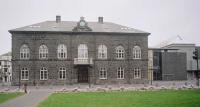 It is most likely that the new Icelandic ministers for trade and for justice will not be MPs, Stod 2 news reported last night. University of Iceland economics professor Gylfi Magnusson and Bifrost University professor Bryndis Hlodversdottir are considered the most likely candidates.
According to Stod 2 news, the still unannounced new government is particularly keen to have a woman as Minister for Justice; and Hlodversdottir apparently fits the bill. Meanwhile, Magnusson has been a regular and outspoken media feature since the banking collapse. He has a doctorate in economics from Yale University in the USA and is one of the many economists to predict the crash long before it happened.
Before Magnusson began his teaching and research career at the University of Iceland, he was a Morgunbladid journalist for several summers and has also taught at Yale and at an Icelandic further education college.
Hlodversdottir is a lawyer by training and was a Social Democrat MP before she quit to take up an academic career.