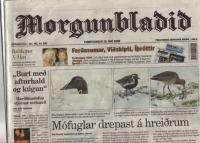 The Australian investor Steve Cosser and his Dutch associate Everhard Vissers have made an offer for Arvakur, the company behind Iceland's biggest paid-for newspaper, Morgunbladid. They have also shown interest in making an offer for the still-incomplete Icelandic National Concert and Conference Centre, Frettabladid reports.
"They showed great interest," said Stefan Hermansson, CEO of Austurhafnar-TR, a company heavily involved in the concert and conference centre project.
Hermansson and many other Frettabladid sources confirmed to the paper that a lot of foreign investors have held meetings with representatives of Icelandic banks and other businesses about the possibility of becoming major shareholders. Investors are seeing opportunities to make cheap acquisitions in Iceland due to the collapse of the banks last October.
Nothing has yet been confirmed about the Arvakur deal; but it is known that no formal offer has yet been made regarding the concert hall. The businessmen are understood to be interested in committing to investing in the companies for five to ten years at the least.
The debts of Arvakur are in the region of ISK 4.2 billion (USD 34,305,000) – but Frettabladid sources believe that Glitnir Bank may be ready to write off portions of the debt to encourage more investment in Arvakur.
Thor Sigfusson, chairman of Arvakur told Frettabladid that the process will go ahead in the open, not behind closed doors.