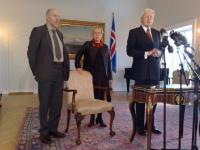 Olafur Ragnar Grimsson, the President of Iceland, asked Ingibjorg Solrun Gisladottir, the leader of the Social Democrats, and Steingrimur J. Sigfusson, leader of the Left Green Party, to discuss together the formation of a minority coalition government between their two parties. The President said he had asked Gisladottir to chair the talks.
Olafur Ragnar Grimsson also said it is possible one or two individuals from outside parliament may be asked to join the cabinet. The final situation has yet to be confirmed; but such a government would not be dissimilar to recent expectations, MBL.is reports.
The President said that he expects to discuss the final situation with Gisladottir and Sigfusson tomorrow afternoon or on Thursday morning. He has requested that the negotiations should take a few days, and not a few weeks.
Ingibjorg Solrun Gisladottir said that she and Steingrimur J. Sigfusson have accepted the President's offer and will now discuss how they can create a strong government that can hopefully be operational by the weekend. They will discuss this today or tomorrow.
Sigfusson said that now they have been set this task, it will be important to remove the political uncertainty in Iceland as soon as possible.
According to President Grimsson, after meeting all the party leaders yesterday, his conclusion was that there was not a strong enough foundation on which to build talks about a coalition of all five political parties, sometimes called a national unity government. He added that although several governments have borne the name in Iceland's 60-year history as a republic, none of them have included every single party.
On the other hand, he said, it was clear that there was a will within the Social Democrats and the Left Green Party that they could work together – especially with the support of the Progressive Party.
It came to light yesterday evening that the Progressive Party is definitely willing to support such a coalition, although it does not have enough MPs in parliament to enjoy support enough to enter into a three-way coalition in its own right. It is likely that in exchange for their allegiance, the coalition partners will promise to support Progressive initiatives in certain pre-decided areas of policy.
It also came to light during the President's meetings that the Liberal Party is willing to support an SD/LG coalition, albeit on a much less formal basis than the Progressive Party.