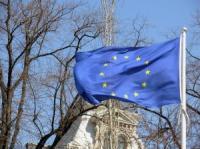 "We cannot waste any time in applying for the European Union," said Arni Pall Arnason, Social Democrat MP in the Icelandic parliament on Thursday. He said that any future government must be ready to completely dissect the machinery of government and lay the groundwork for swift economic recovery.
Arnason said that even though the government has made many good decisions since the fall of the banks, the cabinet's position only continues to weaken, "The nation senses it – and we do too," he said. To this end, the the nation expects to hear today whether or not the current coalition government is even to survive at all.
The government has not been clear and open enough, Arnason believes. He said that the future government will have some important decisions to make to avoid Icelandic business bleeding out in the economic crisis. He believes that in addition to wide ranging domestic reforms, the country should not hesitate to apply for EU membership as soon as possible: "It is the very core issue to help us rebuild the economy," he said.