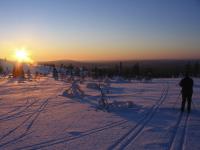 The University of Tromso in northern Norway is hosting the 3rd annual Arctic Frontiers conference, which is designed to discuss changes in the Arctic region involving oil and gas management and the environment. This year's conference is titled "Oil and Gas – Political, Social and Scientific Challenges in the Arctic."
The 5-day summit will be attended by more than 600 delegates from around the world. They represent both the public and private sectors, and will have plenty to discuss this year as the Arctic has recently emerged as a hot topic on the geopolitical stage.
The Norway Post reports that the main topics being discussed are oil and gas activities in the Arctic, as well as the challenges facing both society and the environment. A major facet of the conference will be the Policy Making meetings, which will focus on the renewed interest in exploring and exploiting the natural resources believed to lie under the Arctic seabed.
Management of the Arctic Sea is another big topic of concern, and the scientific part of the conference will focus on global warming as well as ocean governance issues. With the Arctic summer ice appearing to be on the verge of melting completely each year, there are massive ramifications surrounding the unexplored Arctic region. Everyone wants a piece of the pie, and if scientists are correct, it's a pretty big pie.