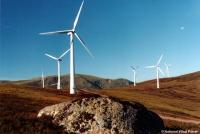 According to the Danish National Association of Local Councils (KL), Denmark is set to get a substantial increase in wind power over the coming years. KL has designated a large amount of land throughout the country where between 400 and 450 wind turbines will be erected over the next two years.
The goal of this ambitious power project is to increase Denmark's energy production from wind by around 30 percent. KL's original agreement with the Danish government's Environment Ministry called for a significantly lower amount of wind turbines; but the new initiative just approved increases that number six-fold.
The Copenhagen Post reports that the additional wind turbines will produce around 900 megawatts of electricity, which is enough to provide power to 500,000 homes each year.
Troels Lund Poulsen, Denmark's Environment Minister, came under fire in December from opposition parties because the government failed to meet the wind power goals it had set for itself by the end of 2008. Poulsen commented that the new agreement with KL demonstrates that Denmark is still determined to head in the right environmental direction. "This is a fantastic achievement and proves that those who said windmills didn't have any future in Denmark were wrong," Poulsen said.