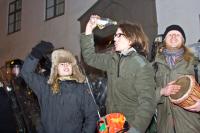 Seven police officers were injured when the protests got out-of-hand for the second day in a row, according to a press release from the Reykjavik police. Just like on Tuesday, stones and glass bottles were used to attack officers yesterday as well, they say.
"As with the day before, the protesters congregated outside parliament in the early afternoon; but around 14.00 they moved to the Prime Minister's offices, where windows were smashed. The protesters then went back to Parliament House and several bonfires were lit in the evening. Several windows were smashed and others damaged. Two police officers were hurt, one seriously.
"At around 20.00 the protesters moved to the National Theatre and lit a bonfire outside. Just before midnight the group went back to parliament and panes of glass in the main front door were smashed. Three police officers were injured by paving stones being thrown. Shortly after midnight two more police officers were injured, one of them was hit in the head with a paving stone. The police sprayed pepper spray as a warning and then fired tear gas to disperse the crowd. The protesters then went back to the Prime Minister's offices. The police operation ended there around 03.00," the police press release says.