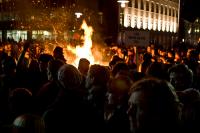 Icelandic Prime Minister Geir H. Haarde again reiterated yesterday that the time for new elections in Iceland has not yet come. In his opinion, calling elections now would leave the country without effective government while the vote is prepared; and that would not be in the national interest. He would, however, not rule out elections as early as next winter.
As previously reported on IceNews, protesters gathering on Tuesday outside Althingi (parliament) decided to stay overnight until yesterday's parliamentary session commenced at 13.30.
In the event, however, there was no session of parliament yesterday: instead the Prime Minister met with other party leaders. Overnight scuffles with the police meant the protest was abandoned around 03.00 Wednesday morning anyway.
Police extinguished several bonfires in the early hours of Wednesday morning, where protesters attempted to burn wood including a park bench and the Norwegian Christmas tree.
The protesters gathered again yesterday lunchtime, staying on in large numbers late into the night. Protests were also held in Egilsstadir and Akureyri, where a public meeting at 20.00 was followed by further protests on Radhustorg Square.
The Prime Minister's car was also pelted with eggs and snowballs as it attempted to transport the PM away from his office yesterday afternoon. After police ensured his safe passage, the office building was also pelted. One window was smashed.
Meanwhile, the Progressive Party's new leader Sigmundur David Gunnlaugsson has offered his party up as the minority partner in a new coalition with the Left Green Party and the Social Democrats (one of the two current coalition parties).
If the Left Greens and Social Democrats agree to the proposal, the new government's likely first move would be to call new elections for the end of April.
The left Green Party is said to be interested in the proposal, but Ingibjorg Solrun Gisladottir, the Social Democrat leader, is undergoing medical treatment in Sweden.
As Icelandic politics continues to move with unprecedented speed, IceNews will continue to keep you regularly updated.