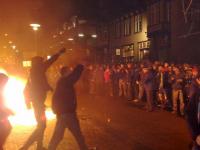 A special open meeting held by the Reykjavik section of the Social Democrats last night in the National Theatre basement attracted hundreds of people and national attention as it became clear the Section would recommend the party disengage from the current coalition government partnership with the Independence Party.
With hundreds of protesters outside chanting slogans and making bonfires, the hundreds of attendees inside came to the conclusion that the party should leave the government and effectively force new elections.
As the news filtered outside, the protesters' mood lifted, and something of a carnival atmosphere prevailed for a time.
As the largest and most influential section of the party, Reykjavik is very powerful; but the recommendation remains just that for the time being.
The party will discuss its options today and it is not yet possible to say whether the party as a whole will agree to dissolve the government.
More details as they come.
Photo: mbl.is/Golli