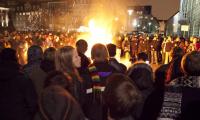 The significant protests that began at lunchtime yesterday are still going on outside the Althingi parliament in Reykjavik, despite it now being past midnight.
As the night drew in, protesters lit a bonfire outside Parliament House and vowed to continue their vigil. The current plan is to keep the protest going at least until today's parliamentary session begins at 13.30, MBL.is reports.
The weather tonight in Reykjavik is still and dry, although the temperature is at, or just below, freezing.
The protesters are angry that the current government continues to reject their calls for new elections. Many police are said to still be guarding the building, which protesters have been periodically pelting with toilet rolls and shoes, among other things.
Photo: mbl.is/Júlíus